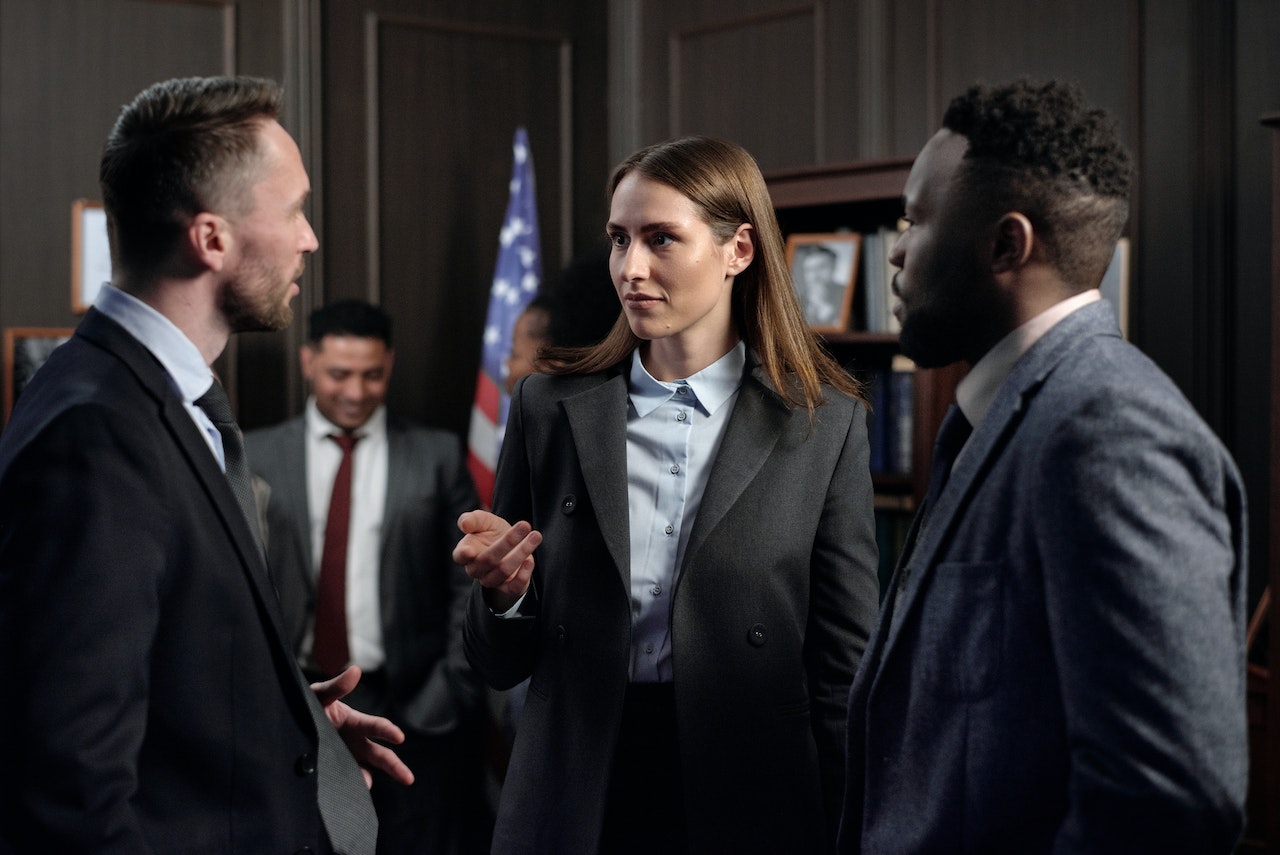 Conflict can happen whenever two or more people interact which means it can happen in the workplace in any industry. While some work-related conflicts are productive and stimulating, others intensify to the point where team members not directly involved in the conflict are affected. As disputes intensify, the workplace may start to seem tense or hostile, which can lead to absenteeism or staff turnover. Leadership skills to resolve conflict are needed to prevent disagreements from spiraling out of control or to recognize when conflict has reached a point where you need to get involved.
Open Door Policy
When your team knows you have an open-door policy, they know you're approachable as soon as a disagreement with another teammate becomes heated or seems unresolvable. Make yourself available to your staff so they know you're genuinely interested in their concerns. Scheduling regular one-on-one meetings is a good way to establish and nurture relationships built on trust. Work on having an upbeat and welcoming attitude. When your demeanor is calm and in control, it's a sign to your team that you have the needed leadership skills to resolve conflict.
Emotional Intelligence
The ability to recognize and manage your own emotions along with the ability to empathize with others is known as emotional intelligence. This is an important skill to have when you're trying to resolve conflict because it gives you the ability to understand another person's point of view without judgment. It also gives you the ability to control your own emotions even when you're in the middle of a potentially volatile situation.
Active Listening
Closely paying attention to what people tell you is important. To practice active listening, listen when people are talking and pay attention to facial expressions and body language. It's helpful to take notes and ask questions when a staff member is talking about a conflict or another important concern. Once they have finished expressing their side of the story, repeat back to them what you've heard so there's no chance of misunderstanding.
Respect Differences
Diversity in the workplace means that people who come from very different backgrounds are in an environment where they have to work together each day. Misunderstandings may be unintentional and may be triggered by simply having widely different life experiences.
As a leader, you need to be able to respect differences between people. Differences may be based on various workstyles, a generation gap or different life experiences related to race, ethnicity, gender or socioeconomic status. The ability to respect and work with people who have had extremely different life experiences is an important skill to have when you need to resolve conflict.
Mediation Skills and Impartiality
If team members are having difficulty working through a conflict, you may need mediation skills to lead a discussion between those who disagree with each other. During this discussion, both parties should have the opportunity to express their perspective without interruption. It's imperative that you don't take sides, even if it seems clear that one person is right and one person is wrong. Avoid focusing on the individuals who are in conflict. Remain impartial and stay focused on the problem and possible solutions to the problem.
Recognizing When Help is Needed
Every conflict is different and even if you have the leadership skills to resolve conflict, you may find that some conflicts are difficult to solve.  You may need to involve HR if you have employees who are being uncooperative about working toward a solution or if either of those in conflict feels you aren't being impartial. Another option is to reach out to experts who specialize in conflict resolution to help find a solution.
Reach out to Peaceful Leaders Academy for training or coaching in leadership skills or conflict resolution.